Facilities
tintinabulum
A special place
When you get to know tintinabulum it is easy to see the care given to every detail of the school, which makes it a special place.
Great care has been taken to make tintinabulum feel special. Our design team, coupled with up to date furnishings and the latest educational material, have created a wide comfortable space, perfect for stimulating learning and child development. An easily adaptable space, which evolves and grows with the children.
Facilities
320m over 2 floors
5 classes from 4 months to 3 years
1 class for babies, 2 classes for 1-2 year olds, 2 classes for 2-3 year olds
Multi-function room
Kitchen
Playroom
Staffroom
Headmistress' office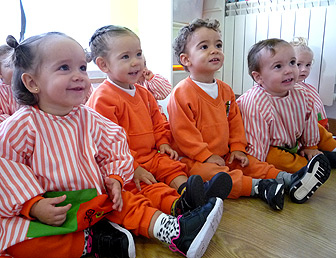 Educating is giving to both body and soul all the beauty and perfection possible.
—Plato

Image gallery
Come to our school, you'll feel at home.
These are some photos from our School. You can view more on our Image gallery.
Image gallery